Conducive Space for Peace Project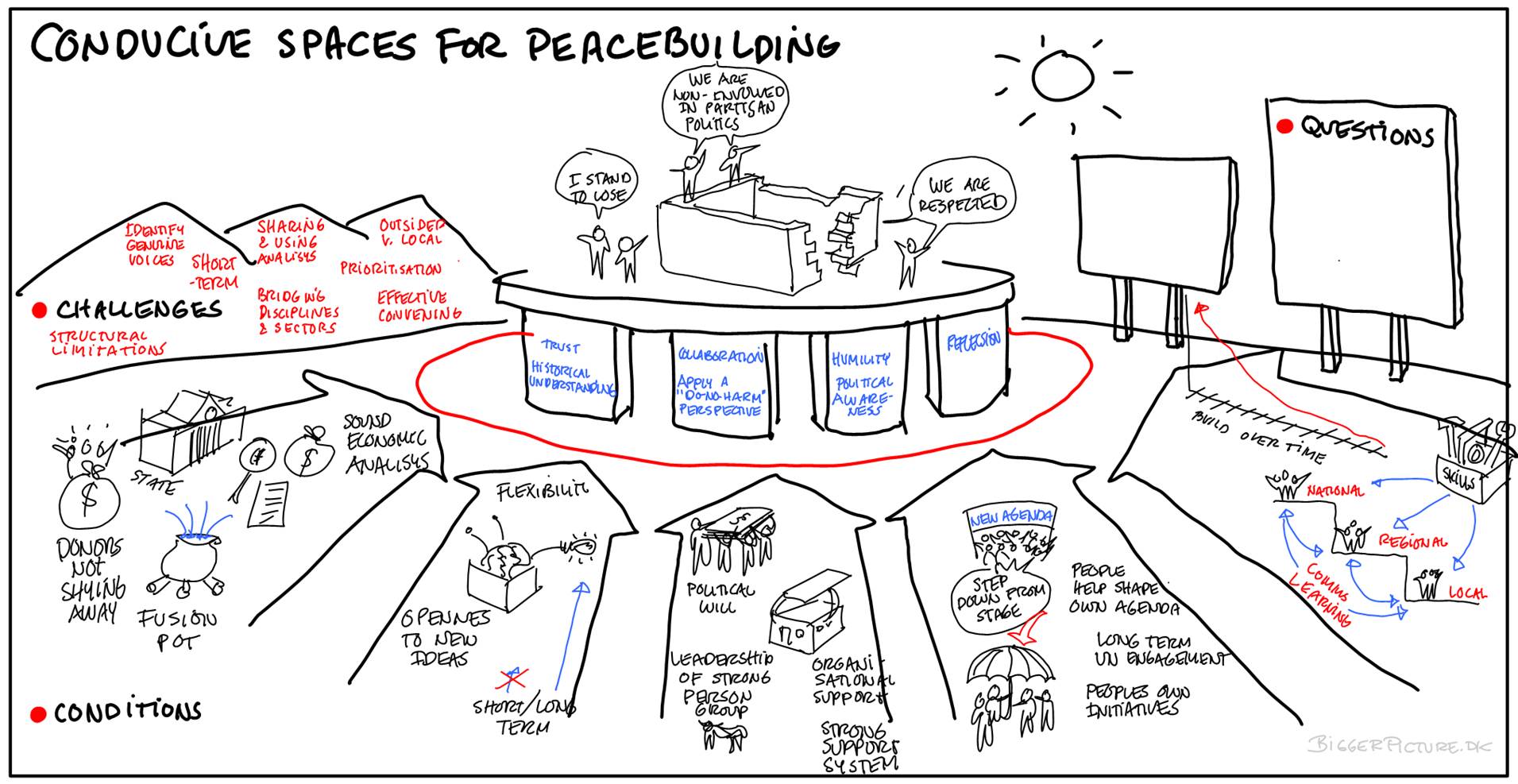 Theory of Change
Sustaining peace after violence has stopped and a peace agreement has been signed requires a long-term process of societal transformation. While the process must be led by national actors through broad platforms of collaboration, international actors can support a conducive space for such efforts.  Conducive international engagement has proved a challenging endeavour.
The theory of change of this project is that by creating innovative processes for joint thinking and action, it is possible to develop new ways of collaboration between national and international actors in conflict affected contexts, which will have concrete positive results for sustaining peace in three conflict situations, and which will in turn have a transformative effect on the broader system for peace support.
Why?
Most international efforts in conflict affected contexts are undertaken within the framework of bilateral and multilateral agencies. These efforts tend to face the following challenges: a focus on technical knowledge rather than contextual knowledge; a lack of recognition of the complexity and focus on linear and single dimensions; limited attention to building relations with local counter-parts; relatively short-term and unpredictable in terms of funding; and lack of flexibility and creativity due to an orientation towards quantifiable results and predefined indicators. The result of these challenges has been a polarized environment marked by practices perceived by host actors as disrespectful and undignified and with little actual sharing of knowledge and ideas. In sum, the space for collaboration has been far from conducive for promoting sustainable peace in a number of conflict affected countries. While the challenges may have even exacerbated over time, the need for an effective framework, such as development assistance and support to peacebuilding, within which countries and people can engage across the globe to enhance global peace and alleviate human suffering is needed now more than ever.
What?
The project is structured around four main components: 1) a dialogue component engaging policy makers and practitioners in a 'transformative scenario planning' process, 2) a bottom-up creative communications component, 3) an analysis and research component, and 4) an Innovation Lab component that draws together the lessons and ideas from the other three components and transform these into new avenues for institutional change and concrete new platforms and initiatives for action.
The project will be implemented in three country cases and at the global level, and each of these will be considered a sub-project with a fully-fledged Conducive Space 'wheel' as illustrated on the previous page. This means that a Transformative Scenario Planning process will be conducted in each national context as well as with global actors through a separate but inter-linked process. Some of the participants in the national processes will also participate at global level, and some of the global policy makers will participate in national level processes. Systemic transformation is the aim at both levels, but it will target different parts of the 'system', and different actors.