Resources
This page offers a variety of resources for anyone interested to learn more about peacebuilding and particularly on how to create a more conducive space for local actors in peacebuilding. This includes blog-posts from CSP and peacebuilding practitioners affiliated with CSP, key articles, books and reports about peacebuilding as well as links to other relevant peacebuilding organisations and initiatives whom CSP is engaging with. Moving forward, CSP is laying the foundation for creating a space for sharing resources among peacebuilders who are working on and interested in this change agenda.
Blog posts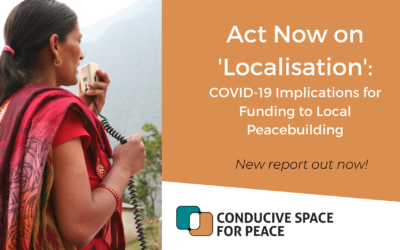 In our latest report Conducive Space for Peace distils the insights of more than 450 peacebuilders who during April, May and June 2020 engaged in consultations on the implications of the COVID-19 crisis for funding to local peacebuilding. Through virtual...
read more
Articles, Books, and Reports
Act Now on 'Localisation': COVID-19 Implications for Funding to Local Peacebuilding
Annual Report 2019 – Årsberetning Danish
COVID-19 and and the impact on local peacebuilding
COVID-19 et consolidation de la paix sur le terrain
COVID-19 y su impacto en la construccion de paz local
CSP Incubator Lessons Learned
Conducive Space for Local Agency and Power in Peacebuilding
Anderson, Mary B., Brown, Dayna & Isabella Jean (2012). Time to Listen – Hearing People on the Receiving End of International Aid. Cambridge, MA: CDA Collaborative Learning Projects
Autesserre, Séverine (2014). Peaceland.
Booth, David (2012). Aid effectiveness: bringing country ownership (and politics) back in, Conflict, Security & Development, 12:5, 537-558
Booth, David & Unsworth, Sue, 2014: Politically smart, locally led development. ODI: Overseas Development Institute, September 2014.
Campbell, Susanna (2018). Global Governance and Local Peace.
De Coning, Cedric (2018). 'Adaptive Peacebuilding'.
De Coning, Cedric (2016). 'From Peacebuilding to Sustaining Peace: Implications of Complexity For Resilience and Sustainability', Resilience, International Policies, Practices and Discourses, Volume 4, 2016, Issue 3.
European Centre for Development (ECDPM), (2017). Supporting peacebuilding in times of change.
IPTI, Peace Direct, GPPAC (2019). 'Civil society and inclusive peace'.
Omidyar Group (N.d.). 'Systems Practice Workbook'.
Overseas Development Institute (ODI) (2017). The Capacities of UN Agencies, Funds and Programmes to Sustain Peace. An Independent Review.
Parlevliet, Michelle (2017). Human Rights and Peacebuilding: Complementary and Contradictory, Complex and Contingent, Journal of Human Rights Practice Volume 9, Issue 3.
Peace Direct 'Local Voices for Peace' reports (several).
Roesdahl, Mie & George Varughese (2017). 'Development aid architecture and the conditions for peacebuilding and human rights: Does the framework fit the purpose?' Journal of Human Rights Practice, Volume 9, Issue 3, 1
UN (2018). Peacebuilding and Sustaining Peace – Report of the Secretary-General.
UN General Assembly resolution 70/262 (2016)
UN Security Council resolution 2282 (2016)
UN (2015a) The challenge of sustaining peace: report of the Advisory Group of Experts for the 2015 review of the United Nations peacebuilding architecture. New York: UN.
UN (2015b) Report of the High-level Independent Panel on Peace Operations on uniting our strengths for peace: politics, partnership and people. A/70/95 and S/2015/446. New York: UN.
Woodrow, Peter (2017). Framework for Collective Impact in Peacebuilding, Cambridge, MA: CDA Collaborative Learning Projects,
Ford Foundation Office for Southern Africa, The Mott Foundation and Philanthropy for Social Justice and Peace (2019) Local agency and power in philanthropy and development.