2016 Launch Workshop
On November 28th – 29th 2016, the Centre for Resolution of International Conflicts (CRIC – University of Copenhagen) and Conducive Space for Peace hosted a two-day workshop "Towards Conducive Space for Peace" with participation of expert scholars and practitioners Ambassador Ibrahim Gambari, Mille Bøjer, Mariama Conteh, Bjørn Førde, Firoze Manji, Michelle Parlevliet, Gay Rosenblum-Kumar, Chris Spies, George Varughese, Peter Woodrow and Mie Roesdahl.
The workshop evolved around the key challenges in international support to peacebuilding, what we can learn from the peacebuilding efforts that have proved to work, what other related reform agendas are important and how to relate to these agendas, how to drive a global transformative agenda through innovative and mainstream processes,  how to secure support and ownership from key stakeholders both at the global policy level and at the local level in conflict affected countries, and how to develop and engage research that provides new knowledge and perspectives. As the project seeks to take a different approach and engage actors in different ways than what has been done before, methods and approaches such as Transformative Scenario Planning, Social Labs and X-Divisions was discussed as possible (new) ways to transform the systemic conditions for peacebuilding.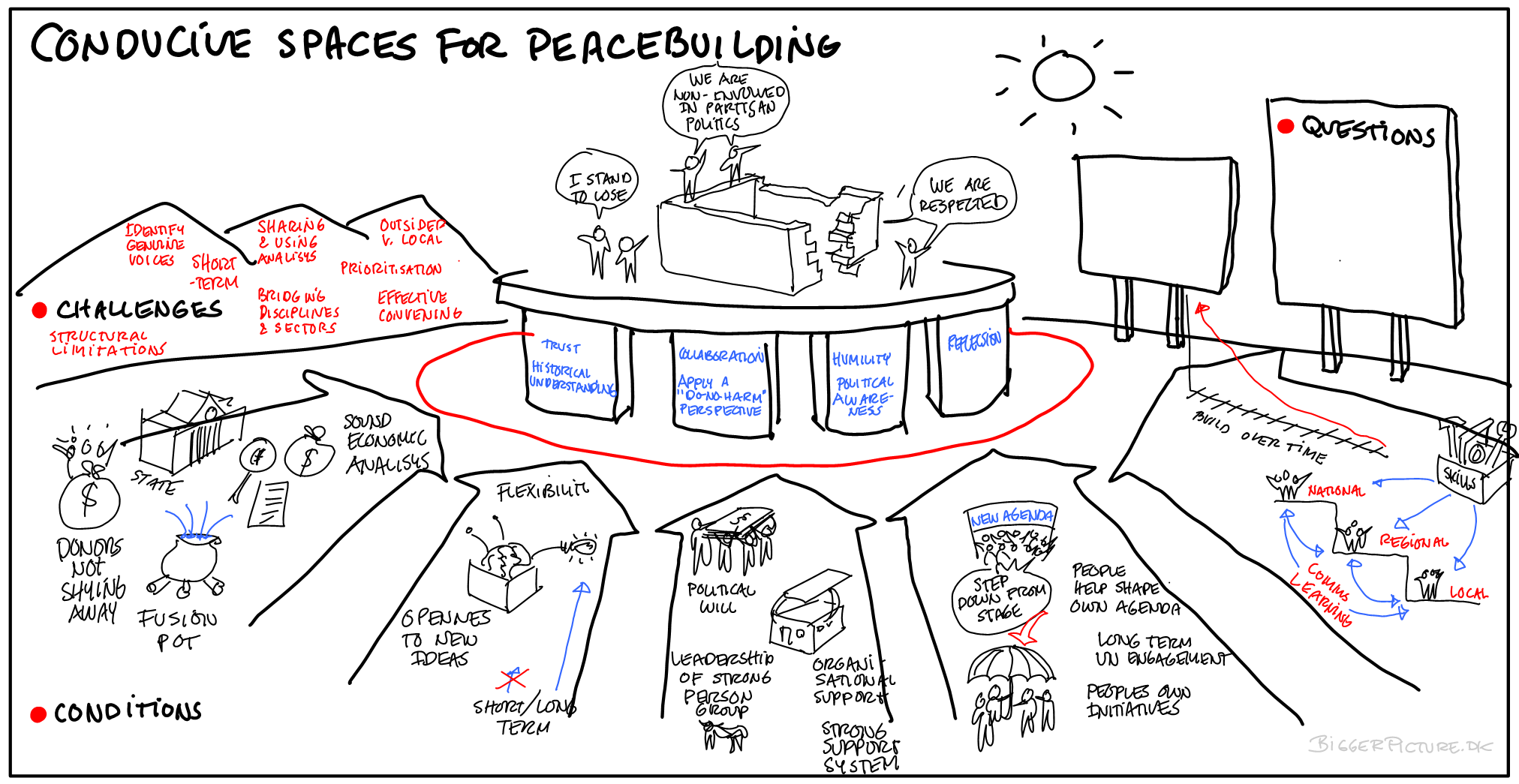 Identifying the main challenges in the spce and condutions for peacebuilding today eas a recurring ussie throughout the workshop. Among the challenges identified were:
Peacebuilding initiatives and interventions are often event-based, short-term and tend to focus on urgent issues rather than long-term perspectives and root causes.
The prioritisation of funding e.g. the funding allocated to respectively peacekeeping, peacebuilding, prevention and that interdisciplinary funding is difficult to get.
Peacebuilding efforts lack coordination: A case in example is UN Resident Coordinators who often do not take up the role as the lead in coordination. Working across levels is important, however, the question remains who to do it.
The way organisations are structured is not conducive for people working towards peace. Unilateral ways of working was highlighted as an issue in terms of power, politics and top-down structures.
The challenge of identifying who the genuine representatives and bridge builders at the local level are (often challenged by certain ideas about "real" authenticity) and how to engage in a common understanding of these among private actors, NGOs and governments.
The dynamics between local and international – a challenge in the trade-off between international efforts and contextual efforts, a tendency to neglect the local at the expense of the international. However, a concern was also raised in terms of romanticising the local, as local actors can be problematic as well.
The tendency among INGOs to ignore governments and solely engage with civil society. However, it was also considered problematic that the UN and the North is often criticised for not including civil society, while there is a tendency not to criticize the global south nations when not including civil society either.
Challenges in changing practices: there is a continued focus on flexibility and adjustability in programs, but little action is taken to implement these changes in practice.