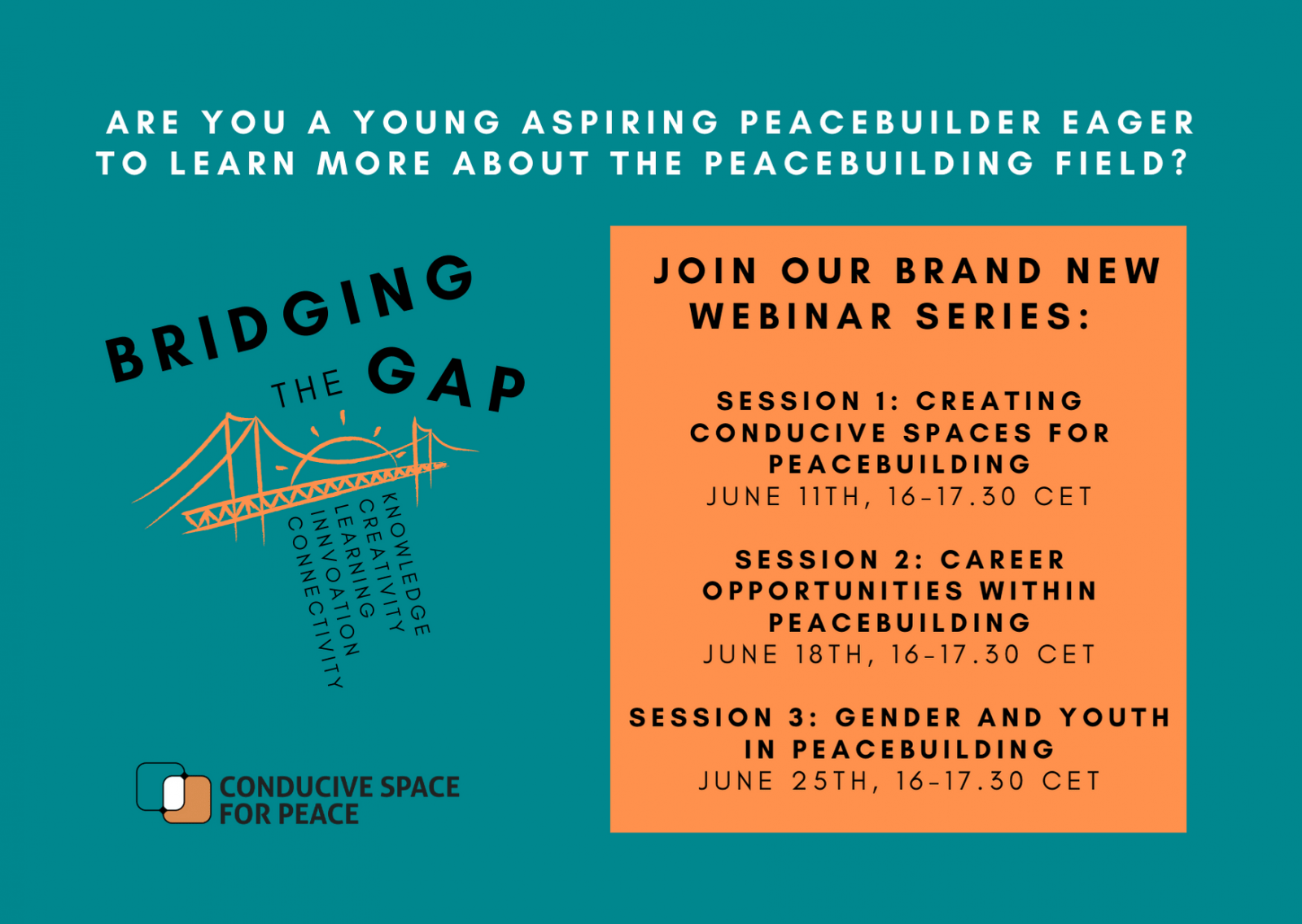 Bridging the Gap webinar series to be launched for young, aspiring peacebuilders
Are you a young person reaching the end of your studies or in the beginning of your career with a wish to learn more about the peacebuilding field? Then join us at Conducive Space for Peace as we launch our new webinar series "Bridging the Gap"! Bridging the Gap is about creating translocal and -national connections with other aspiring peacebuilders, filling in knowledge gaps and creating conducive spaces for learning and interaction.
The sessions will equally consist of stories and learnings from local and international peacebuilders, panel discussions and career insights. There will be room for participatory interaction, asking questions, and experiencing creative approaches to peacebuilding.
Our first round of Bridging the Gap sessions will focus on the following overarching topics:
Session 1: Creating Conducive Spaces for Peacebuilding: Thursday June 11th, 16-17.30 CET
The initial session will provide us with an introduction to some of the challenges we see in the current peacebuilding system, and we will talk about why it is important to promote local agency and power in peacebuilding. After mapping out where we all are joining in from and testing our knowledge through a quiz, an introduction to the topic will be given by director of CSP, Mie Roesdahl. This will be followed by a panel discussion on how we can create more conducive spaces for peacebuilding, moderated by Christian Cito of CSP and the following panelists: 
Sahlim Charles (founder and director of Re-imaginging New Communities, Kenya)
Farida Amiri (Founder and President, Peace Friends, Afghanistan)  
Rashida Namulondo (Sophie Muwaniku Institute, Art for Change, Uganda)
Session 2: Career Opportunities within Peacebuilding: Thursday June 18th, 16-17.30 CET
The second session aims at providing young, aspiring peacebuilders with inspiration and insights from other young peacebuilders with experience of working both in local and international peacebuilding organizations. They will share their personal stories on how they entered the peacebuilding field and their experiences of choosing this as a career path. The audience will also be given the opportunity to ask any questions they may have related to pursuing a career in peacebuilding in an interactive Q&A.
This week we will hear insights from the following four speakers:
Benedicte Storm (Denmark, UNDP Mali)
Shadi Shahbaz (Iran, founder of PeaceMentors, student Inter-Mediterranean Migration and Mediation studies) 
Christian Cito (DR Congo, founder of Peacemaker360 and program advisor at Conducive Space for Peace)
Maria Stage (Denmark, program analyst – Junior Professional Officer at UNDP)
Session 3: Gender and Youth in Peacebuilding: Thursday June 25th, 16-17.30 CET
The third session will highlight the role of women and youth in peacebuilding, and address the implication of excluding them from peacebuilding processes could have for sustainable peace. Senior advisor at Conducive space for Peace, Sweta Velpillay, will provide us with an introduction to the role of youth and women in peacebuilding today from a global perspective, before we have the pleasure of hearing Dishani Senaratne, project director of Writing Doves, share some of her poetry focusing on the civil war in Sri Lanka. This will be followed by a panel discussion moderated by Christian Cito of CSP, with the following panelists:
Jackie Bage (South Sudan, YWCA of South Sudan)
Comfort Attah (Nigeria, Sisters Helping Hand Foundation)
Carine Umutoniwase (Rwanda/ Kenya, Footprints for Change) 
Want to join in on any of our sessions? Click the following Zoom link in order to register: https://us02web.zoom.us/webinar/register/WN_C9Op6y65SN-Se9hSfAxPsA
Looking forward to seeing you online!