Annual Meeting 2021
Conducive Space for Peace invites you to join the 2021 Annual Meeting on November 23 at Suomisvej 4, Frederiksberg 
See invitation in Danish below
We are delighted to invite you to the Annual General Meeting from 15:30 to 17:00 CET on 23 November. The meeting will be held in-person at CSP's Copenhagen office (Suomisvej 4) and virtually, with members, employees and board members of CSP participating.
During the first part of the meeting, the Chairman of the Board, Bjørn Førde, and CSP Executive Director, Mie Roesdahl, will talk about CSP´s work, what we have learned in 2021, and where we are headed.
In the second part of the meeting, we will delve into the crucial work that local peacebuilders do in conflict-affected countries, and how organisations as CSP can better support them. During this session, we will listen to the input of our partners from Kenya, Transform Empowerment Action Initiative (TEAM), Programme Coordinator Maureen Kemunto Bitengo, and Angaza Empowerment Network Executive Director Livingstone Nyando, who with CSP have established a long term relation and recently connected in Kenya. The risk of electoral violence in the upcoming 2022 Kenya general election is high, and the work of CSP´s partners focuses precisely on preventing violent conflict to work to prevent that Kenyans greater poverty, conflict, unemployment, and violence, including violence against women.
We hope that you will participate at the annual meeting and in the dialogue with CSP partners. To participate virtually please register here. If you would like to attend in person please confirm by sending an email to Antonio Jimeno: antonio@conducivespace.org.
Sincerely,
Bjørn Førde and Mie Roesdahl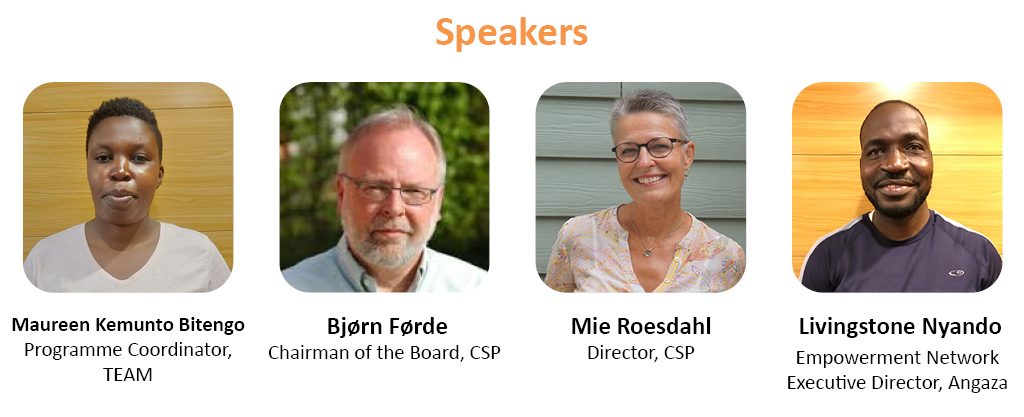 Conducive Space for Peace inviterer til årsmøde den 23. november på Suomisvej 4, Frederiksberg
Dansk version 
Du inviteres til vores årsmøde den 23. november kl. 15.30-17.00 på Suomisvej 4 eller via Zoom. Vi har muligheden for, at medlemmer, medarbejdere hos CSP og bestyrelsesmedlemmer kan deltage enten i vores kontorfællesskab på Frederiksberg eller via Zoom. Mødet foregår på engelsk.
Bjørn Førde, formand for CSP, og Mie Roesdahl, direktør for CSP, vil i den første halvdel af mødet fortælle lidt om CSP, hvad vi laver, hvad vi har lært i året der gik, og hvor vi er på vej hen.
I den anden halvdel af mødet vil vi zoome ind på det vigtige arbejde lokale fredsopbyggere gør i konfliktramte lande, og hvordan organisationer som CSP bedst kan støtte dem. Vi vil høre input fra vores partner fra Transform Empowerment Action Initiative (TEAM) Kenya, programkoordinator Maureen Kemunto Bitengo, og Angaza Empowerment Network, direktør Livingstone Nyando, som CSP har langvarige relationer med og netop har besøgt i Kenya. Forud for valget i Kenya til næste år forventes voldelige sammenstød, og CSPs partnere i Kenya fokuserer netop på at forebygge voldelig konflikt, så den kenyanske befolkning ikke kommer ind i en ondsindet spiral med fattigdom, konflikt, arbejdsløshed og vold, inklusiv vold mod kvinder.
Vi håber, at du vil deltage i CSPs årsmøde og dialogen med vores partnere. Tilmeld dig her for at få Zoom-linket Venligst giv besked til Antonio Jimeno hvis du deltager personligt: antonio@conducivespace.org.
De bedste hilsner, 
Mie Roesdahl og Bjørn Førde